Since the middle of the 20th century, rock music has been demonized, both literally and figuratively. But is it true that rock and roll is truly of the devil? Let's lake a look and find out.
I have read many articles and done quite a bit of historical research on the nature of chords, the historical background around the development of rock and roll in America in the 50s, even historical background surrounding the middle ages. But as I have drawn closer to God and continued to ask for wisdom, understanding, and knowledge of truth, God has helped me to better understand the nature of reality and the nature of truth.
Brief historical background of rock and roll music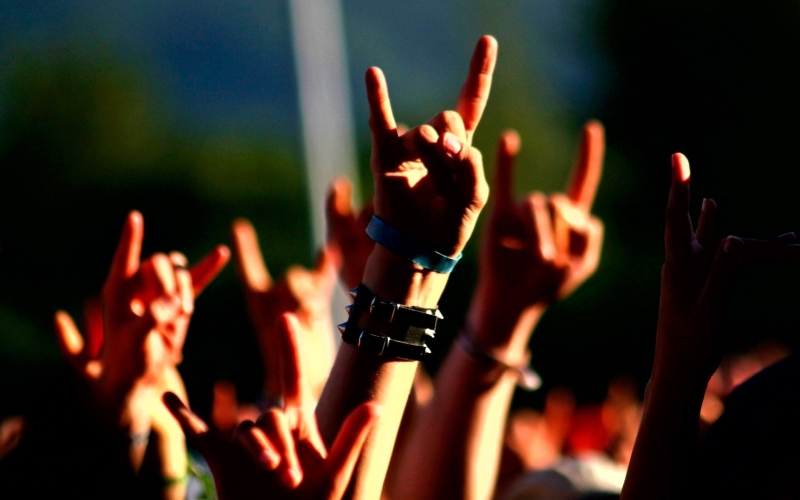 Let's start with some historical background. Back in the 1950s, rock and roll music was not popular, but actually was an act of rebellion. Rock and roll stars developed the "rock" hand signal, which now is associated with "rock on", even though people don't actually use that phrase anymore. It has become a part of popular culture. However, the hand signal is actually demonic, it is a combination of Illuminati symbolism and literally the "horns of the devil". With the hand placed into a fist and the index and pinky finger held up, the rock stars would put this to their forehead as a way to imply devil's horns.
Why the hand signal? It stemmed largely from the culture of rebellion and disobedience to parents. In the 50s, parents hated when their kids listened to rock music, because of the ungodly messages spoken in the lyrics, and because the music literally altered people's behavior. It would transform obedient, good kids into rebellious, drinking, smoking, promiscuous "little devils" – metaphorically speaking. The transformative power of music and its direct influence on human behavior definitely cannot be dismissed.
As a result of this, and because of the nature of musical chords which I will get into shortly, rock and roll soon gained fame as the "devil's music". Rock stars of course would take advantage of anything that increases the allure of their music to their fans. By founding an entire musical culture on rebellion and disobedience, it created something of a cult which drew vulnerable kids away from their parents and into the cult of rock and roll pop culture. The more that kids disobeyed their parents by listening to rock and roll music and participating in rock and roll culture, the more strong fans they became. As they became stronger fans, they completely separated themselves from the wholesome values and morals of their parents, further drifting into ungodliness, and in some cases apostasy.
The nature of musical chords
Now let's discuss the nature of musical chords. In music there are known as two polarizing opposites, in which on the one hand the music sounds so good and that monks in the middle ages considered the tones to be godly. On the other hand is the devil's chord full of disharmony.
The "perfect fourth" and "perfect fifth"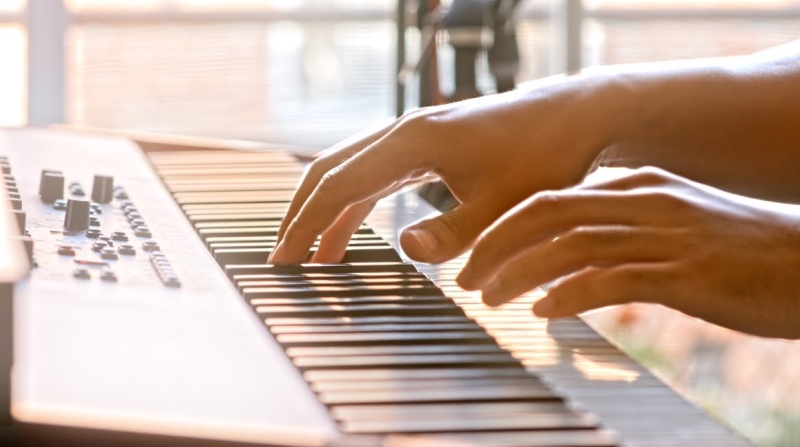 On one end of the musical spectrum is a chord called the "perfect fourth" and the "perfect fifth". Since many of you are probably not a musician or a student in music theory, I won't be discussing the actual notes or the science behind it, since that is not important for this article. If you want to know about that, a quick internet search will show you that info.
In the middle ages, monks considered this to be a godly chord, and for good reason. This is why most of the hymns began in the perfect fourth. Even today, wedding music, and much christian music, either begins or utilizes the perfect fourth and fifth. It is not just a cultural creation but is a reality of the nature of God's creation. The fourth and fifth in harmony is truly perfect harmony and bring a heavenly feeling. It gives feelings of peace, tranquility, holiness, goodness, happiness, bliss, love, and other good feelings.
The tritone aka "the devil's chord"
Now contrast the perfect fourth and perfect fifth with its rival, the tritone, also known as "the devil's chord" or the "devil's tritone", the "diminished fifth" and a number of other names referring to the same chord. In the middle ages, the tritone was dubbed "diabolis in musica", which means "devil in the music". As a result of the feelings of negativity that it portrayed, it was banned by the church during the middle ages.
In stark contrast to the perfect fourth and fifth's harmony, the nature of the tritone is disharmony, dissonance, confusion, restlessness, sadness, misery, violence, aggression, tension, danger, fear, terror, and other similar negative emotions. This is a scientifically proven fact. For example, if you tried to play a tritone at a wedding ceremony, people would probably think it was a funeral. It would certainly be very confusing for the attendees.
Rock music by nature utilizes the tritone as a fundamental aspect of its music. The devil's chord of confusion, violence, and danger actually formed the fundamental nature of rock and roll music. Later, heavy metal and thrasher music took it to a completely different level, still utilizing the tritone but in a total spirit of hate, darkness, evil, violence, and extreme aggression. The excessively loud music also creates greater feelings of fear, because humans are born with two innate fears – loud noises, and heights. Heavy metal uses loud and disturbing noises to create fear.
But what about so-called "soft-rock" and light rock music? The truth is that the "rock" portion of the music is by nature disharmonious and is inherently bridled with negative emotions as a fundamental aspect of the music. Soft rock and light rock uses *less* actual rock music and instead pairs light music and positive music along with it. Think Coldplay. Much of Coldplay is barely rock, if rock at all. In fact they utilize the perfect fourth and fifth, the polar opposite of the tritone of rock music. Therefore, if you think of a peaceful song, the truth is that it cannot be rock music, because rock music utilizes the tritone which gives the aforementioned negative feelings.
Biblical analysis of the devil's chord
So is rock really the devil's music? Historically, musically, and figuratively, it is certainly so by its very nature. That is why it was called "the devil's chord". But is it the music of Satan? That is to say, is it inherently evil? To answer this question we need to go to the Bible, and further also take a look at history to see the effects of rock music on culture and society.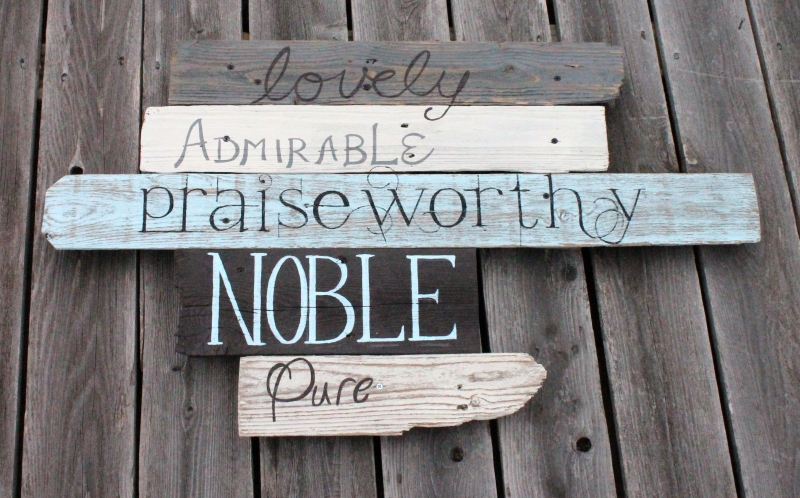 In Philippians 4:8, the Bible says, "whatever is noble, whatever is right, whatever is pure, whatever is lovely, whatever is admirable – if anything is excellent or praiseworthy – think about such things."
2 Timothy 1:7 says, "For God has not given us a spirit of fear, but of power, of love, and of a sound mind".
1 John 4:18 says, "There is no fear in love, and perfect love casts out all fear".
Philippians 4:6-7 says, "Do not be anxious about anything, but in everything by prayer and supplication with thanksgiving let your requests be made known to God. And the peace of God, which surpasses all understanding, will guard your hearts in Christ Jesus."
So we know the things of God: those things which are good, peaceful, lovely, holy. Now, the things of the devil are the opposite. The Bible says that he "prowls around like a roaring lion, seeking whom to devour" (1 Peter 5:8). It says he is a deceiver, a tempter, and the spirits of darkness are under his power. This includes the spirit of fear, hate, malice, violence, anger, spite, terror, sadness, and other negative feelings.
Have you sensed a parallel between the nature of music and the nature of God and the devil? It seems quite clear that good music like that of the perfect fifth and perfect fourth, the music that gives feelings of peace, goodness, holiness, love, and righteousness, these are surely good and holy to listen to.
Conversely, rock by nature is not good. It gives feelings of sadness, violence, anger, fear, malice, and other similar feelings. If any "rock" song has a period during the song which does not have these feelings, it is only because the song has incorporated *non-rock* music into the song. This is because always and under all circumstances, the "devil's chord" which is the tritone is one which gives feelings of negativity. You cannot feel positive as a result of listening to the tritone, since by nature it creates confusion, dissension, and negativity.
Historical effects of rock and roll music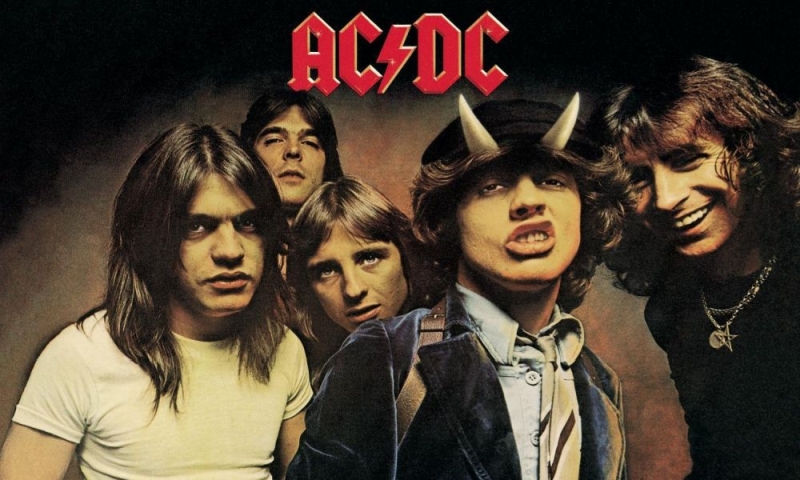 The evil, demonic appearance and satanic symbolism including the pentagram, became the face of rock music for a very good reason – it is because it is within rock's very nature.
Another one of the major influencing factors we can use to decide whether rock and roll music really is of the devil is to look at history. Since the 50's and the introduction of rock and roll music, this form of music single-handedly sparked a cultural revolution that forever changed American culture.
We can see these effects today, and these effects are not good. Rock and roll culture encouraged disobedience of parents, immorality, materialism, and promiscuity. It also opened the door for the devil to quite literally get a foothold in the souls of millions of vulnerable youth.
Looking back today, we can see that the parents of rock-listening children were right after all. Every fear they had really came true. Parents feared the children would become rebellious, disobedient, immoral, addicted to drugs, promiscuous, and stray from God and the church. This is exactly what happened. With each passing generation, less and less children grow up in the church. America has more fatherless children than ever in history. Materialism in America is worse than anywhere in the world.
Surely, there are other factors besides just rock and roll music to cause these problems. However, anyone familiar with history can see the undeniable culprit to spark and drive this cultural revolution as being rock and roll music at the heart of it all. Rock music changed America forever – and not for the better.
Look at any rock star today. What are the general character traits? Promiscuity, materialism, and drugs. Of course, not every rock star is wrapped up in all this, but surely, every one is influenced by the culture of rebellion that goes along with all rock music. The rebellious spirit remains at the heart of every rock song today, even among supposed Christian rock artists – and especially among hard rock and heavy metal artists, Christian or not.
Personal experience with hard rock music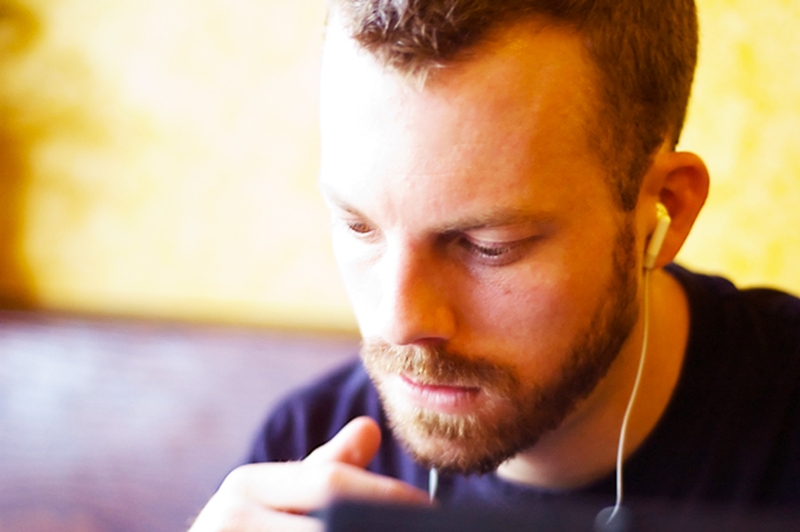 Years ago in college I used to listen to the hard rock and heavy metal music like Demon Hunter and Underoath – so-called "christian" hard rock music. However, the spiritual and physical and psychological effect on me was extremely damaging during that period of my life. Reflecting back on that time, I recognize the music as likely the primary reason for the darkness of that time in my life. It was a terrible time emotionally and physically, and everything continued to go wrong in my life. I made a lot of bad choices. Looking back, I recognize the music as having a profound impact on that time, and possibly the primary cause of that dark time in my life.
When I made an immediate and polar shift from heavy metal music to exclusively worship music and uplifting electronic (trance) music, my entire life changed. My outlook on life transformed into a positive one, and I remember feeling like "the dark times are over". When listening to the hard rock music, even before getting into the heavier thrasher type music – hard rock music like Staind and Three Days Grace, I often wanted to die. Granted, I also had a pretty crummy life, but now I believe these suicidal thoughts came actually from the music. Later as I got into heavier music, the suicidal thoughts increased. I never took an action, but this was only out of fear of damnation of my soul. If I was not a Christian during that time, surely I would be dead today! The only reason every time that I did not commit suicide was because I feared God and feared hell. I believe the Holy Spirit saved me from death by reminding me about God during my darkest times. But I believe that music – not my personal situation as extreme as it was – rock and metal music was the real culprit behind the misery and pain I felt inside.
But looking at the difference in financial situation, it really wasn't any different immediately despite having a completely different feeling about life and a peace and fellowship with God that was absent during the dark times when I listened to the "Christian" heavy metal music. Additionally, over time this positivity that entered my life with listening to positive music also resulted in better financial circumstances, but that is besides the point. The point is that in a time of listening to worship music, my outlook on life was drastically better than during a time of listening to even "Christian" heavy metal music, in times when my financial, relational, familial, and every other factor was nearly identical. My outlook on life, hope for the future, and peace in my soul was drastically improved, with the only true difference being the type of music that I listened to.
When I was younger, a teacher at a Christian school that I attended once told us about a time that he was listening to secular heavy metal music as a teenager. He told us about how one time he got a shotgun and almost shot his dad who walked into his room, and expressed how it "didn't even feel like it was him doing it", like something had possessed him. Almost certainly he was under demonic influence by listening to heavy metal music, especially because I think he wasn't a Christian at the time. It was this story which is why I only listened to "Christian" heavy metal and refused to listen to secular heavy metal – but the shocking result in my experience was that the "Christian" hard rock and metal music still had the same type of negative effect on me, despite the supposed Christian focus of the heavy metal bands that I listened to. If I wasn't a Christian at the time, surely today I would be dead.
Should a Christian avoid all rock music?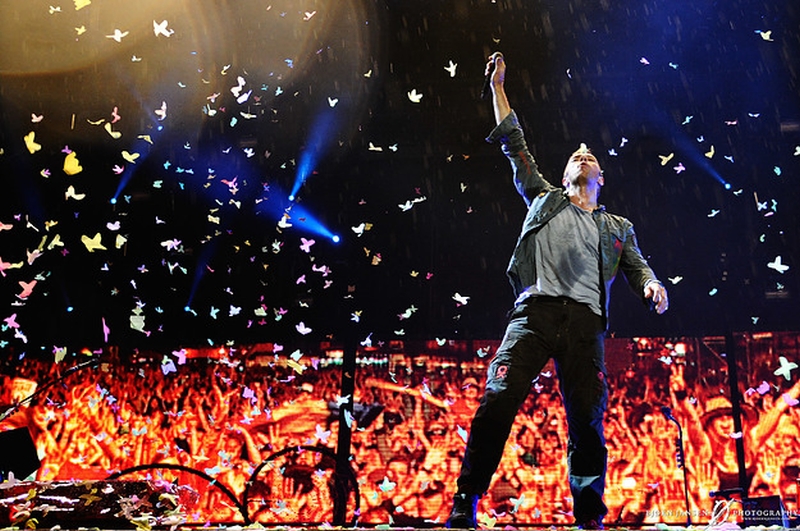 The result of all of this is that the answer to the question about rock music is not cut and dry, but there is a clear takeaway by following biblical instructions. The answer is not cut and dry because much rock music contains non-rock chords which do not create the negative feelings or the negative lyrics – and subsequently inspiring the negative behavior. However, these rock songs always contain some of the negative chords, or else it is not rock music. And almost every one of them contains something negative or rebellious to some extent. If it doesn't, then by definition it is not "rock". As a result, listening to any song which contains the tritone to create the negative feelings, or the negative lyrics, is against what the Bible teaches. The Bible instructs us to avoid that music, because it is not pure, lovely, admirable, excellent, or praiseworthy as the Bible instructs is in Philippians 4:8.
On the other hand, the answer to heavy metal and hard rock music is very clear. It does not matter if the heavy metal or hard rock music is "Christian" or not, because it is not a righteous Christianity. Righteous, biblical Christianity cannot dwell on sadness, darkness, and the spirit of fear and anger and contempt and so on and so forth. By nature the very expression of hard rock and heavy metal is negativity, anger, and such ungodly emotions. I know because I used to listen to so-called "Christian" heavy metal music like Underoath, etc. The music is very dark, and will absolutely and without a doubt cause negativity, confusion, and darkness in your mind. It opens up a door for the devil to enter into your life. "Christian" or not, heavy metal and hard rock is not holy. A discerning Christian should never listen to it. As for non-Christian heavy metal and hard rock, it is that much worse.
But what about soft rock? Let us set a precedent. We understand what the Bible teaches us to think about. We are discerning to understand what is good and holy if we are mature as Christians. There may be some songs which may be completely innocuous despite being made by a "rock" band or being secular. What comes to mind is Speed of Sound by Coldplay. One of my favorite secular songs ever. Would Christ listen to that song? I can't answer that because I am not God, but based on something I found, I don't think Christ would listen to it. I read the lyrics and don't see anything there that is negative or unholy. And the sound of the music does not seem to create feelings of negativity but of peace and tranquility.
However, hidden underneath the peaceful overtones of the song, it is revealed that the tritone does really exist in the song. I know the tritone exists in the song because I did a search and found an entire college paper written about how to play the song. It says as follows:
"It is also worth noting that the bass parts outlines a tritone between A and Eb at the return of the hypermetrical unit, which also seems to indicate that the tonal center of the chorus has shifted away from Eb major to Bb major." Source.
Therefore it really is a rock song. And, therefore, subliminally and subtly, the negative feelings really are there, hidden, masked under peaceful overtones. It may take some serious introspection, but if you are honest with yourself, you will realize it. You will notice the hidden negative feelings weaved throughout the song. It is sad to break the illusion of my favorite song, but God is greater and more important than any song. What is better, to allow a foothold for the devil with my favorite song, or to ensure that the devil has no possible foothold with the slight disappointment of not listening to my favorite secular song? The answer to this rhetorical question is obvious.
That said, it may be my favorite secular song which I won't listen to anymore, but there are so many more perfect and beautiful worship songs that I love even better. Surely you can find a holy song you love even better than your favorite unholy secular song. God will certainly reward you for giving up something of the world and replacing it with something of God.
In any event, even if a particular artist really does have one good song, that does not mean you should listen to all from that artist. Most likely, there are few if any secular songs that are completely holy.
Not only that, but even songs which were not aggressive or violent, even seemingly nice songs like that from 3 Doors Down or other talented artists, I found myself later throughout the day actually thinking about the things I had listened to – not the actual songs themselves, but the things in my life which I was thinking about, I was thinking about it in a similar way to the music I had listened to, and focusing on certain negative things the music lyrics said even though I hadn't paid attention to the lyrics when listening.
If you find yourself dwelling on negative things, maybe you should be looking for the source of that. Did it come from your own mind? Or was maybe the real source the music you listened to earlier or even a few days ago? (This includes music overheard while getting groceries!) Sometimes when I was thinking about something not good, I would reflect onto what I was listening to, and discovered that it was the exact message the music which I didn't even think I had listened to the lyrics, it had entered my head and changed my thoughts! So even though you think you are just enjoying the sounds, it is just a deception of the devil. If the words are entering your head, whether you are consciously paying attention or not, the words are speaking to your mind, and will absolutely influence you. Therefore you must avoid unholy lyrics (even about things that do not seem "bad") even in the best sounding songs. They open up a gateway for the devil to enter into your mind and deceive you.
Rock music is not of God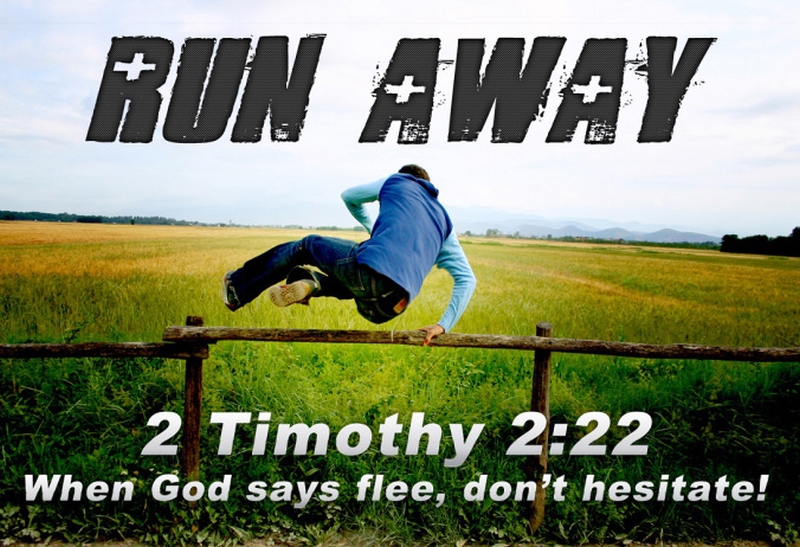 Just because we live in the world does not mean we should allow our minds to be influenced by secular things. In fact, the Bible gives us a command, "Hate what is evil, cling to what is good" (Romans 12:9). 1 Thessalonians 5:22 says, "reject every kind of evil". Still, we are still a part of this world, and God does not want us to live as hermits alone. To do so would be to reject God's command to spread the Word to the world.
But there is a difference between living in the world and being a part of the world. Christ told us, "Do not love the world or anything in the world. If anyone loves the world, the love of the Father is not in him" (1 John 2:15). The Bible also tells us that we will be hated by the world, if we are truly of God.
If you tell someone, without any self-righteous or prideful indignation, "I cannot listen to this music", many times you may be surprised they will respect you for your beliefs. But, it will not always be the case. Surely, in many cases people may persecute you for your choice to follow the Bible. Fear not. Jesus promised,
29 '"Truly I tell you," said Jesus, "– no one who has left home or brothers or sisters or mother or father or children or fields for My sake and for the gospel 30 will fail to receive a hundredfold in the present age—houses and brothers and sisters and mothers and children and fields, along with persecutions—and to receive eternal life in the age to come"' (Mark 10:29-30).
They may make fun of you, call you names, or even ostracize you. If that happens, you did not do wrong, if your heart was true. The Bible says that the people of the world do not understand the ways of God. 1 Corinthians 2:14 says, "The person without the Spirit does not accept the things that come from the Spirit of God but considers them foolishness, and cannot understand them because they are only discerned through the Spirit."
You cannot expect that following the ways of God will always be a walk in the park. If you are a friend of God then you are an enemy to the world. The world hates the things of God. But if you set yourselves as a friend of the world and embrace the things of the world because you are afraid of what people thing of you, or because you love the things of the world, then you are setting yourselves as an enemy of God. Jesus said, "if you are not for me then you are against me" (Matthew 12:30). And the Bible says in James 4:4, "whoever wishes to be a friend of the world makes himself and enemy of God."
Biblical and historical evidence points to rock music as being inherently evil
So now back to the question about Rock music. Is rock music of the devil? Is it evil? According to the scriptures, yes, rock music is evil. Rock music is not of God but actually is of the devil, because anything that is not of God is of the devil. Now, there may be a couple select songs from secular artists which are innocuous. Just like there are paintings which are simply beautiful or sculptures which are beautiful. There is not a harm in enjoying something of beauty, but there is harm in enjoying something that is unholy, or beautiful only the the world but not to God. The world may consider a golden stature of Buddha to be beautiful, but God detests it. Just because something in the world is beautiful does not make it holy.
Therefore, "set yourselves apart as living sacrifices, holy and acceptable to God, which is your spiritual worship" (Romans 12:1). This might mean giving up music you love because you know that it is not holy. I grew up with 90s and 2000s rock music. To listen to it is to give me a feeling I like inside. However, as a discerning Christian I recognize this as a worldly lust, not as holy.
A hard rock song that gets my blood pumping in the gym might be enjoyable, but the messages spoken to my soul is ungodly, negative, and evil. Or the sad slow rock song that reminds me of times past, when I read the lyrics and recognize this as negative and ungodly, I recognize that it is not holy and as a Christian and follower of Christ I should not listen to it.
What if I'm not listening to the lyrics?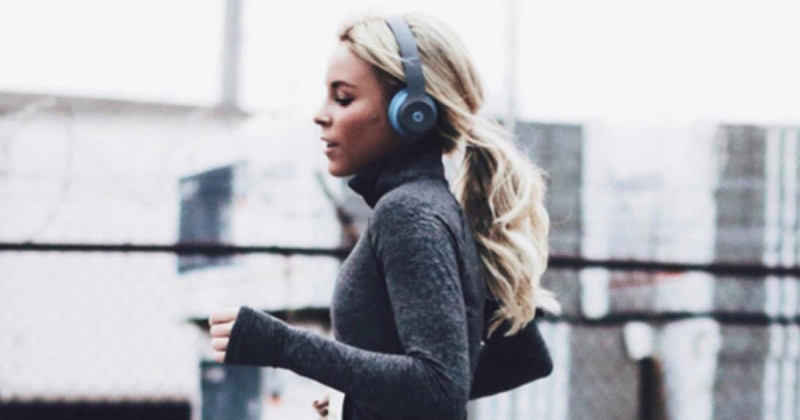 Even though you think you are not paying attention to the lyrics, it is still going into your head and influencing you. It is not harmless words, it is a message that is teaching your mind what to think whether you like it or not. Moreover, the disharmony of the disharmonious chords of the tritone, which is rock music, is harmful to your emotional and spiritual wellbeing. This is evident from the obvious fact that people who listen to heavy metal music become angry, depressed, and even suicidal.
It may even be worse that you are not paying attention, because you are not consciously bringing these thoughts under the subjection of the will of God. This allows Satan to step in and choose for you, and bring these negative thoughts to mind – which later you might think came out of nowhere. But it was not out of nowhere, it was from the music you let enter your head. You gave the devil permission to influence you by letting that negativity into your mind.
How I listened to God by eliminating rock and ungodly music
I haven't really listened to any negative music in years, but a few months ago I went through my ipod and deleted every artist which was not godly. I had kept a few songs but only those which were not negative at all. I had even deleted most of the Three Doors Down songs. Anything that was negative, I deleted. It amounts to tens of thousands of songs simply removed which I won't ever listen to again. As God continued to transform me I began to recognize the negativity inherent in most secular music. (2020 Update: Since then I removed all secular songs and now listen to no rock songs whatsoever. The more that I have realized that our music affects us physically and spiritually, the more important I realized that it is to avoid listening to secular music.)
Even some Christian music is not good. And anything that is hard rock, including Christian artists like 12 Stones, and definitely everything from Red and Breaking Benjamin – these songs are not holy to listen to despite their supposed "Christian" title. And while some of my favorite songs included 30 Seconds To Mars, the truth is these songs are not good to listen to. So I deleted almost everything from my ipod. Instead, I filled it with uplifting trance and house electronic music, and worship and Christian music from various artists including Jeremy Camp, Casting Crowns, Chris Tomlin, and Hillsong. These are holy music to listen to. Others like Kutless which ranges from worship to hard rock, I deleted the hard rock and negative-leaning songs and kept some worship songs like "Word of God Speak", "Strong Tower" and "Better is One Day".
Do not become enemies of God by filling your head with evil music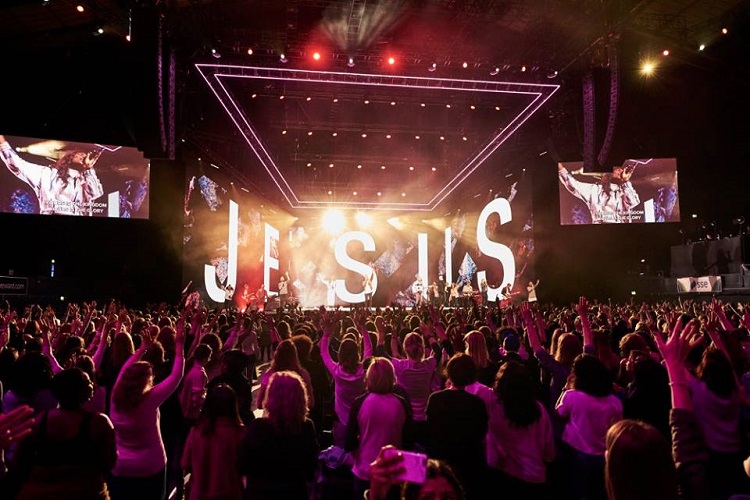 Hillsong concert putting Jesus first.
There is so much great and holy worship music out there, that there is really no reason for you to continue listening to ungodly music like rock or nearly all other secular music. Bands like Hillsong, Casting Crowns, Kari Jobe, etc., there is something for everyone. Just make sure your "Christian" music artist is really speaking Christian lyrics. And if you really hate worship music – well, you probably aren't going to like heaven very much! I can't imagine any true Christian hating all worship music, unless they aren't really a Christian after all. Worshiping God should be the joy of every Christian. If it isn't, then you should take a serious look at your life and ask God is you are really saved. Or, maybe you should try listening to some other Christian worship bands. Just check out youtube for "worship music" to get some great ideas.
So what you need to do is to go to God in prayer and ask God to show you the truth and to help you to break free from the love of ungodly Christian music, and secular ungodly music talking about illicit behavior, anger, violence, hate, breakups, or anything else negative.
Also while some of the songs may be nice to listen to, maybe you should ask yourself, do you really like the music or does it just remind you of the past? And is that reminiscing worth the evil spoken into your life and potential doors opened for demons to enter into your life through your ears and your mind? It isn't. So ask God to give you both the strength to break free from your love of music over God, and to break free from from your fear of others over your fear of God.
For Christ Jesus told us in Matthew 10:28, "Do not be afraid of those who kill the body but cannot kill the soul. Rather, be afraid of the One who can destroy both soul and body in hell". Do not fear others, but place your fear of God higher than your fear of others. Likewise, place your love for God higher than your love of things in the world. It doesn't mean you have to seclude and isolate yourself from society, but you should avoid evil, avoid those who draw you into evil, and take great efforts to control your environment and what goes into your mind through you eyes and ears: for fear of both earthly consequences (by opening doors for demons to enter into your life), and for fear of eternal consequences; for friendship with the world is enmity with God.
---
---